A Close Up of Monarch Grove
We are getting so excited for the arrival of Monarch Grove. Monarch Grove is our first varied weight collection consisting of stripes, variegated patterns, and and more stripes! The colors were inspired by the beachside monarch groves of the California Central Coast where we're from. This 100% cotton collection is a beautiful choice for garments, quilts, and home decor alike. You'll find the handfeel and texture to be extra scrumptious!
We've received lots of questions about the weights and which is which. So we've done a little breakdown in this blogpost to highlight each weight and design.
MGW-01 & MGW-02
These three (Large Monarch and Small Monarch) are a one of the heavier weights in the Monarch Grove group at 175 gsm. These work perfectly for bags, and garments with structure. We're using the larger version for a quilt-backing because even at a heavier weight, the feel is cozy and soft.
MGW-03 & MGW-04
At 135 gsm, our Wings stripe (thicker stripes) and our Skinny Stripe are the lightest weight in the collection. Their weight is very similar to Sprout Wovens if you are familiar with that. We love this for crisp and light cotton blouses and skirts, and quilts!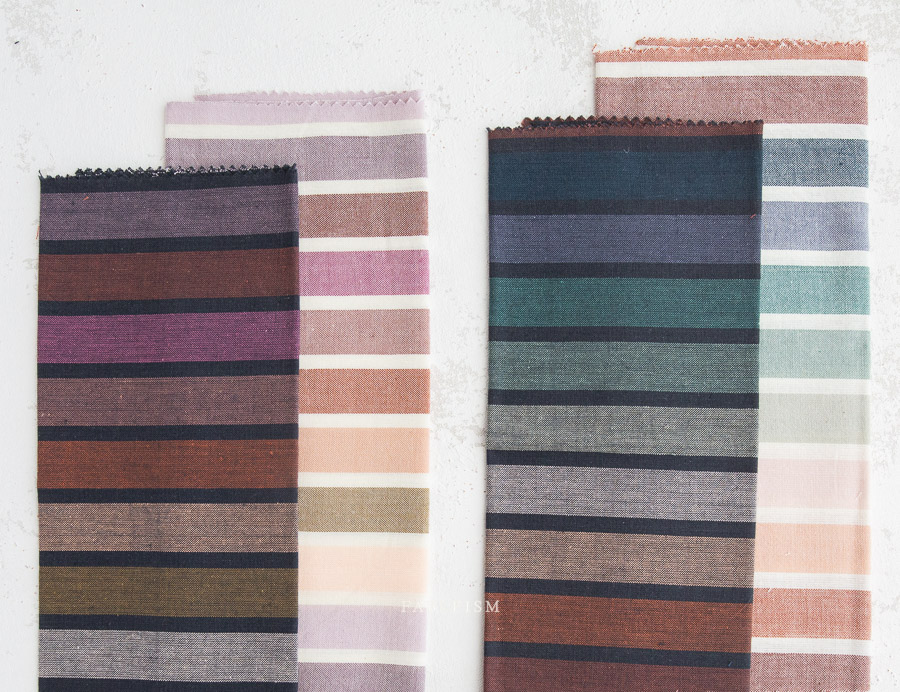 MGW-05
At 160 gsm, our track stripe is one of our middle weight fabrics. It has a lovely drape, and is structured enough for bags and garments, but soft enough for smaller quilting projects too.
MGW-06
At 190 gsm, Native Nectar is the heaviest fabric in the collection, and possibly one of our favorites! It has such a unique blend of colors, and the textures and colors are so rich! This is a great weight for upholstery but we even included some in an upcoming quilt, and it worked fabulously!
We love this backpack sample made by our friend Jordan of @jordanporter.handmade on Instagram. The pattern is the ever fabulous Making Backpack by Noodlehead Patterns.
MGW-07
At 140 gsm, our Ladder Stripe is a beautiful choice for quilt backings! It's light, drapey but opaque, and so soft!
Monarch Grove is shipping to fabric shops in April/May of this year! Make sure to check out our stockist page to find a shop carrying Fableism near you!
If you are a shop interested in carrying Fableism fabrics, please visit our Wholesale page for more information!